This week, I'm featuring a new brand to the blog: Threads 4 Thought. They offer both casual and active clothing, but of course I'm highlighting their activewear. In this post, I'll review the Kyanna half zip hoodie, Joanne sports bra, and Saskia leggings.
My history with Threads 4 Thought goes waaay back. I bought several of their casual tees circa 2010. They were my absolute favorites at the time, and I wore them on repeat til they completely wore out. When I learned they now have an activewear line, I was optimistic these pieces would also be winners.
As the name suggests, Threads 4 Thought specializes in sustainability, minimizing environmental impact as much as possible. In the clothing industry, this is a tall order. To support this effort, T4T offers a tremendous amount of transparency about their products. Their website has a ton of info about their factories, dye usage, and packaging choices. It's easy for brands to slap some sustainability buzzwords on their products, but I appreciate that T4T goes a step further and sets a high standard of transparency. Here's what I thought about their gear.
Disclosure: these pieces were complimentary from Threads 4 Thought. As always, all opinions are my own. This post contains affiliate links, which provide a small commission for me at no cost to you. I appreciate the support to help keep this site going!
Kyanna FeatherLoop Half Zip Hoodie Review
Fit and Sizing
The Kyanna hoodie is meant to fit a bit loose instead of next-to-skin. I'm usually either an XS or XXS in tops, and I got this one in XS, the smallest size currently offered. It fits with room to spare on me, which I like for this style. If you're between sizes, I would go with the smaller of the two sizes for a more tailored look, or go up if you like a little extra space. The fabric is stretchy, so sizing is easy to get right.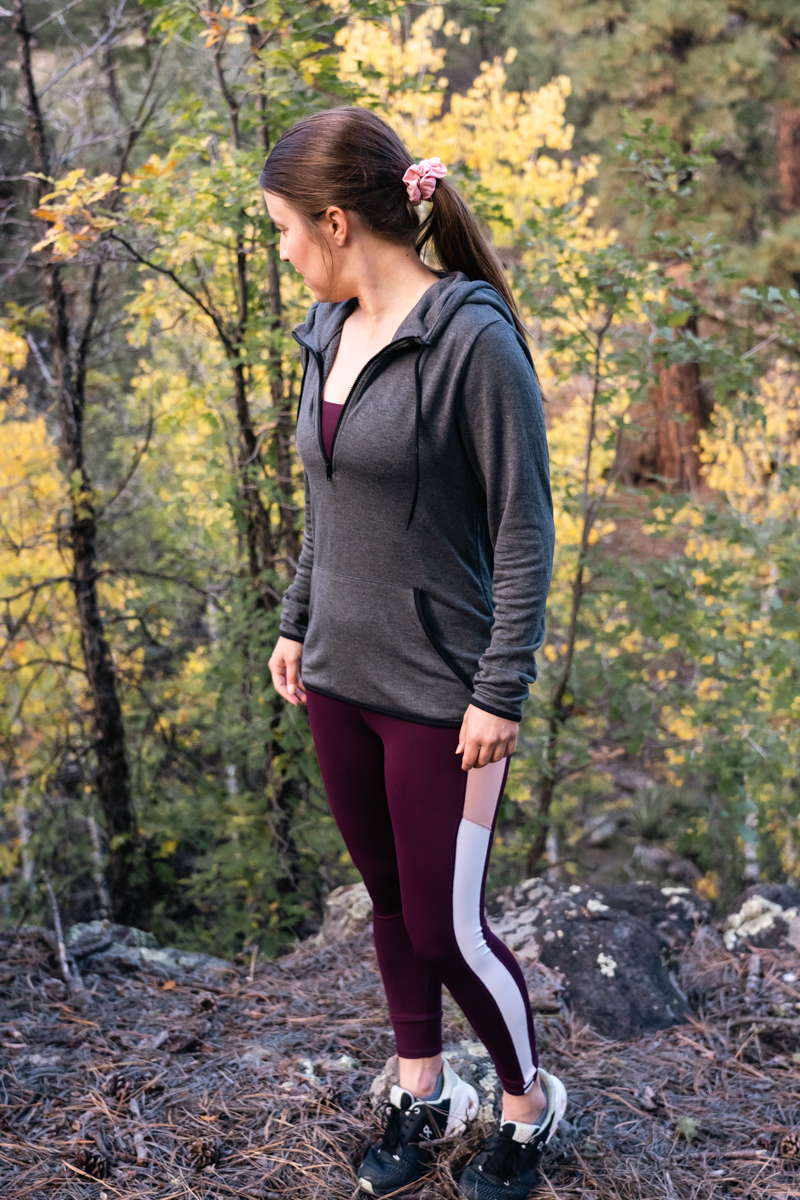 Fabric and Feel
The first thing that jumped out was how soft the fabric is–it's hard not to notice! The fabric is modal (mixed with just a little spandex), which is a natural fiber with a similar feel as cotton. It has that cotton-like feel on the outside, but the inside is an incredibly soft fleece finish. The hoodie feels extra warm and cozy against the skin. The kangaroo pocket is lined with the same soft fleece, too. After washing it, I haven't noticed any change in the softness of the fleece.
It's hard to tell from the photos, but this is not a lightweight summer hoodie. It's definitely a warmer layer best for cooler weather. The fabric is thicker and insulating, a comparable weight, warmth, and comfort like my favorite old hoodies.
While the fabric does wick moisture, keep in mind that the thicker fabric dries a bit more slowly. For that reason, I wouldn't wear this for a high-sweat activity. It works best as a casual, low-intensity, or warm-up pullover. For instance, I wore this for a garage weightlifting session on a chilly evening, and it was perfect for the job. With the warm, soft fleece and relaxed fit, I also reach for it often to wear around the house or around town.
If the cozy fabric sounds appealing, but you don't like this half zip style, there's a full-zip jacket version that's similar. They use the same fabric in casual sweatshirts, too, like the Cathy boyfriend pullover or the Leanna tunic.
Joanne Colorblock Sports Bra Review
Sizing and Support
Sports bras can be tough for me, so I chose this style specifically because of the higher coverage. I typically wear a 30DD bra, which means a lot of sports bras don't accommodate my size very well. I'm wearing a size XS in the Joanne bra. As I suspected, this style fits very well, with no spilling at all! If you're a full cup size like I am, I think you'll like this bra. I expect it would also work well for smaller cup sizes too, just with a bit higher coverage than what you see in my pics.
For me, this bra offers light to medium support. It's not enough to run in, but is great for things like hiking and lifting. Between the wide, sturdy band and the compression, it holds everything in place like I'd expect. The underarm and back also offer plenty of coverage. There's nothing about this bra that's flimsy, but it's still pretty to look at.
Design Details and Comfort
I also chose the Joanne/Saskia set because I just love the colorblock details. I wear a ton of mauve and burgundy, so of course this set is right up my alley.
The bra is double-layered and includes removable cups. One detail I noticed is that with the double layering, the panel for the cups does not have the colorblock seams on the inside. This is a really important detail for comfort and avoiding chafing, because it means the the inner fabric layer that touches the skin is totally smooth. Here's what that looks like:
The straps are fairly wide set, but even with my narrow shoulders I don't have slipping issues. The size of the straps also distribute weight well, providing comfort, coverage, and support, more wins for larger-cupped folks. If you're prone to strap slippage, though, you might want to try a different style.
The fabric is the same as the Saskia leggings, which I'll cover below.
Saskia Colorblock Leggings Review
Sizing and Fit
I'm wearing a size XS in the Saskia leggings, which fits me beautifully. Currently, I wear a true XS in bottoms. If you're between sizes, I'd suggest choosing the smaller size. The leggings are available in sizes XXS-XXL.
The rise is quite high, coming up almost an inch above my belly button. This is similar to ultra/super high rises in other brands. If you find you often want a little more rise coverage, you'll love these.
Marked as a 24″ inseam, these are similar to a 7/8 length in most brands. I'm only 5'3″, so they are very close to full length on me, skimming just above my ankles. For taller gals, expect ankle or capri length.
Design Details
The Saskia leggings have a pretty colorblock stripe that coordinates with the Joanne bra, but looks just as cute on its own, without the matching piece.
T4T didn't skimp on storage: you'll find three large pockets on the Saskias. There's a thigh pocket on each leg, plus a waistband pocket. My iPhone 11 Pro fits well in all three. The waistband pocket is the biggest pocket, and is cleverly designed with no zipper, just a flap instead. The pocket area is everything you see in light pink between the two side seams.
One detail to notice is that the pocket on the side without the colorblocking has the pocket stitching squared off. There's only one seam on the outer leg below the pocket, while the colorblock side has two seams. I like this detail since it makes the leggings a bit cleaner without sacrificing storage space! The stripe side narrows as it goes further down the leg. This means the seaming doesn't come over my kneecap at all, which helps with comfort, too.
Fabric and Performance Function
The first thing I noticed about these leggings was how good they feel against the skin. They fit me like a glove, and the fabric feels luxuriously comfortable. I was really impressed by the fit and feel. Trying new brands can be a little nerve-wracking, but they were honestly so much better than I expected.
The fabric is an average weight–not too thin or flimsy, but not heavy and stifling either. It has a smooth, silky finish that doesn't feel overly slick or plasticky. Instead, it's nicely supple and has amazing stretch, while still offering just enough compression to hold you in. The fabric is recycled, using plastic water bottles as the source material. The leggings are also squat-proof and 100% opaque, which is a huge win!
I tested out these leggings for both a weightlifting session and a couple of my runs around town. They were equally suited to both tasks. I never had to adjust or tug, and the high rise was especially nice for lifting.
If you're looking for a pair of leggings that can handle just about any workout, these are a wonderful option. At $78, they're an excellent value as well. In my opinion they absolutely hold their own against leggings from other brands that cost around $100.
Between the fit, opacity, feel, and aesthetic, these leggings win the prize as my most favorite out of all three styles in this post. I love them.
Overall, I'm really stoked with this whole outfit from Threads 4 Thought. All their pieces are a great value for the price tag, are super comfortable, and fit well. These styles are impressively strong contenders in the fiercely competitive world of activewear. The fact that they're made responsibly is really the cherry on top. You can check out all of T4T's activewear offerings on their site right here.
Outfit details
Kyanna featherloop half zip hoodie – heathered charcoal
Joanne colorblock sports bra – royal burgundy/latte
Saskia colorblock leggings – royal burgundy/latte



Credit : Source Post